Frame Kits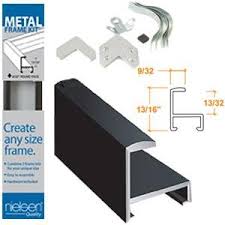 Frame Kits are a very affordable way to start custom framing your art work, you can get a custom frame for a fraction of the price.
These durable anodized aluminum moldings are the same quality utilized by custom picture framers and are easy to assemble.
They are a fun DIY project, or our team of friendly framers can easily assemble them for you.
You can frame artwork, photographs, and more to any full inch size from 8" to 40".
Each package contains two sections of the same length, and you will need 2 kits to assemble a rectangular frame.
The beveled face of each moulding section measures 5/16" in width with a depth of 7/16". The resulting frame can hold a print, protective
glazing, and up to two mats, one of which acts as the backing.
To create a custom frame, simply measure the overall height and width from the outside edges of your work. Choose one size kit for length and one size for width, and
assemble your frame with the included hardware. Corner angles, eyelet hangers, and spring clips are included with the kit. Cut mats to full inch sizes so that they fit snugly
behind the beveled front face. You'll need to provide two mats, glass or glazing material, picture wire, and backing paper (to protect the mat) if desired.
We offer a large selection of metal section frame kits in durable anodized colors.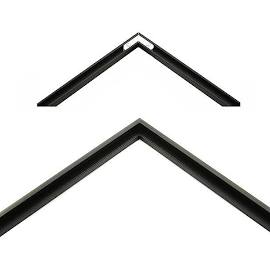 Hardware--corner angles, eyelet hanger, and spring clips--included.
*Custom frame kits made from durable anodized metal
*Simply combine two kits to create a frame with the dimensions you require
*Necessary hardware is included: corner angles, eyelet hanger,
and spring clips
*Available with black finish
*Available in sizes: 8 in. through 40 in.
Frame Depth — The depth of a frame refers to the depth of the frame's rabbet (the cut-out area behind the frame's molding that holds your artwork in place). To find a frame that will accommodate your artwork, measure the depth of the artwork, including any matting or mounting materials, and order a frame with a depth that is, at a minimum, the same as that measured depth.
Frame Dimensions — Frames are sized by the opening, not by the outside of the molding. To determine the size of frame to order, measure the outside of your artwork, including mat, and order that size frame. The frame will overlap your artwork ¼" all the way around, so your artwork will fit nicely behind the frame's molding.